Toofypegs was launched in the UK in 1991 – We've sold over a million over more than 20 years!!!
---
Toofypegs "emergency temporary repair kits" are marketed in the UK & Ireland as well as for international export, by Crescent Pharma OTC Ltd.
Crescent Pharma OTC is a small healthcare business with a portfolio of feminine health, dental, and support bandage products. We also distribute a number of family healthcare solutions and supplements for export, we have solid relationships with all of our suppliers and clients and offer competitive pricing and solutions on a range of products.
   I wasn't registered with a dentist when my cap came loose; my friend recommended Toofypegs as a quick fix – I bought mine on the high street – it was a few months before I saw my dentist but it didn't give me any more trouble. Mr. H Putney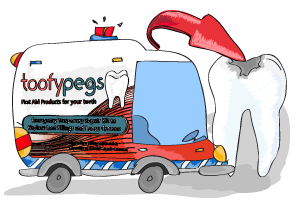 ---
Toofypegs quick-fix emergency repair when you just can't get to a dentist!